Services
We will resume Sunday School classes beginning this coming Sunday, April 18, 2021. We will begin at 10:00 am (instead of 9:45) to allow the musicians time to practice. The adults will meet in the auditorium. We will be having two classes for the youth (preschool and primary age). Please let Rich Baker know as soon as possible if you are interested in volunteering to assist with these classes.
11 am Sunday mornings: In-person worship services
**Each person should evaluate their own situation and decide if they should attend. Those who may be at high risk, who show any symptoms of the virus, or just do not feel comfortable at that time to attend the meetings are ENCOURAGED to stay home, until they feel it is safe and wise to attend. For those who are unable to attend in-person the service can be viewed at the following link: https://www.youtube.com/watch?v=jmMVusJU94c
We will be taking the following precautions in order to maintain the safety of all who attend as much as possible. 
The sanctuary remodel is complete enough for us to meet there. We would ask that families sit with one pew of space between themselves and the next family and a distance of 6 to 8 feet from the next family if sharing a pew. We will rope off or hang signs to indicate which pews should not be occupied.

All pews, restrooms, and door handles will be disinfected before each meeting.

Hand sanitizer (if it can be obtained in time) will be made available in the restrooms and in convenient locations.

HVAC filters that filter viruses will be installed in all of the air returns in the main building.
We would also like to suggest that everyone consider and observe the following guidelines out of consideration for those who may be in a high-risk category or have a higher concern for the situation. 
Enter the church through the main entrance only. If possible, we will try to ensure that there is someone to open the doors for everyone so as to avoid more people than necessary touching the doors.

Avoid physical contact and observe social distancing guidelines of maintaining a space of 6 feet to 8 feet from others.

Avoid gathering in tight places such as the back hallways and rooms. Avoid large gatherings in the foyer area.

Try to keep restroom occupancy to 1 person as much as possible. We will temporarily make the Bible school wing restrooms and the nursery restroom unisex to accommodate this. The foyer restrooms, however, will remain segregated as they do not have locks on the doors.

The use of a face mask is suggested, particularly during the congregational singing, as there is an increased risk of spreading the virus. If they can be obtained, these will also be made available for those present.
For God so loved the world that He gave His only begotten son, that whoever believes in Him should not perish but have everlasting life.
John 3:16
How To Find Us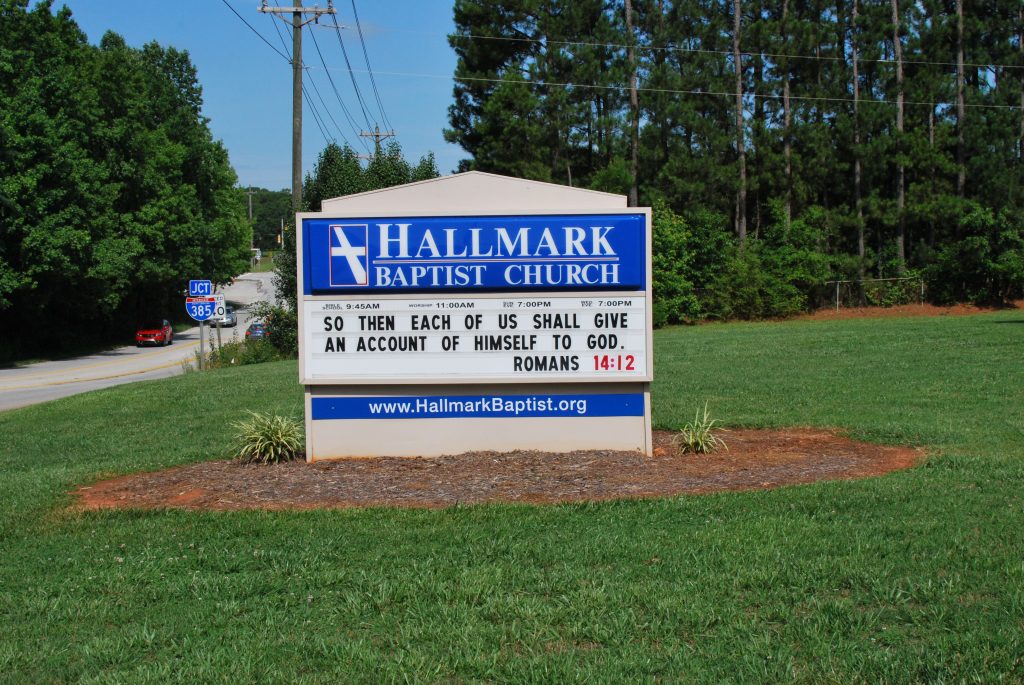 We are located on Bridges Road, just off of I-385 at Exit 33 in Mauldin, South Carolina.